People we are T minus 26 days until Christmas ! Last weekend I went out and bought about 97% of all my Christmas presents. Yes, I am one of those smug [ Christmas ] organised people… well that, and if I didn't do it then it simply would not have happened ! My weekends between now and Christmas are filled with weddings, weekends away and other work related outings and commitments so it was a case of needs must ! 
BUT ! As its Surprise Saturday on our YouTube Channel and as I am now sooo organised, I'm going to share some great ideas for Christmas gifts with you to suit all budgets !! 
Below you'll find four videos… yes, four – I went a little overboard ! Each focusing on present ideas for different budgets. I have ideas for under €10, under €20, under €50 and the splurgie area of €60 and above… 
Also, if you're looking for some great idea for Productivity Christmas Gifts check out my good friend Laura from How to GYST video – she has some great ideas too !! 
And for those who hung around right to the end… would you like to know what I would love, love, love to be under my tree this Christmas ? 
Ok here goes… 
If money was no object it would have to be … 
The Louis Vuitton MM Neverfull… I simply LOVE [read: am obsessed with all things LV !]
I'm also heavily lusting after this gorgeous set of Brown & White Cosmetic Bags by Henry Bendel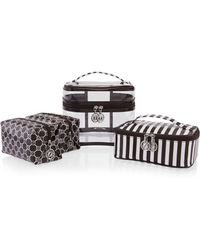 And lastly a big Christmas wish of mine is for one of Erin Condren's gorgeous Life Planners and all the trimmings. 
What a you hoping is under your Christmas tree on the 25th ?